For Leagues and unrated Open Play, you will want to sign up according to your rating for maximum enjoyment. How do you find what your rating is? Here's a handy chart for determining your level: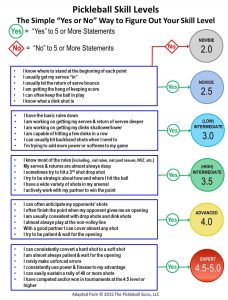 Please Note: Self rating does not allow access to Official Rated Play. Learn more about how to get an official rating HERE. Have an official rating? You can get entered into our official ratings groups by sending an email to hello@luckyshotspickleball.com. Include "Ratings Request" in the email header.
Still not sure? Are you right on the border? Rank yourself lower – you can always move up!